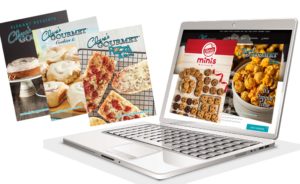 ONLY complete this form if you are interested in starting a fundraiser for your group, school or organization. If you are a participant in a current fundraiser, click here. 
If you are interested in joining the numerous groups and organizations that sell Claire's Gourmet products or would like to receive information and/or brochures, please complete the form, or call us at 800.359.1919. For local calls, dial 410.298.2500.
Let's Get Started:
Please complete the Get Started Today form then click the 'Submit' button to submit this form.
***Do not complete this form if you are a participant in a current fundraiser.***
Claire's Gourmet Provides:
FREE Brochures for Each Program
FREE Incentive Awards Program
FREE Computer Tally
Ability to Earn Extra Profit